Hello! Today I will introduce you to the AWS Services because the AWS cloud has been more and more popular in the last few years and I think this is a very good investment in your future to know the basics of AWS so let's get started!
Ok, but to start you need to know what exactly is cloud computing.
So cloud computing is the on-demand availability of computer system resources, especially data storage (cloud storage) and computing power, without direct active management by the user. We use this terminology to describe data centers available to any users over the Internet. As you know the Amazon AWS is the leading provider in this market, so the best approach to learning the basics is watching official resources provided by Amazon Web Services:
Ok, now we can switch to the Services provided by AWS and quick overview the most popular of them:
Amazon Services for application
AWS EC2
Amazon Elastic Compute Cloud (Amazon EC2) provides a virtual server machine on which you can host your App.
AWS S3
AWS Simple Storage Service (S3) enables customers to store any amount of data and make it accessible from anywhere.
AWS IAM
AWS Identity and Access Management (IAM) is a web service that helps you securely control access to AWS resources. You use IAM to control who is authenticated (signed in) and authorized (has permissions) to use resources.
AWS VPC
Amazon Virtual Private Cloud (Amazon VPC) enables you to launch AWS resources into a virtual network that you've defined. This virtual network closely resembles a traditional network that you'd operate in your own data center, with the benefits of using the scalable infrastructure of AWS.
AWS Lambda
With AWS Lambda, you can run code without provisioning or managing servers.
Amazon App Stream
AppStream is a fully managed application streaming service that provides users instant access to their desktop applications from anywhere.
AWS Direct Connect
Direct Connect is a network service that allows a customer, aka a business, to establish a dedicated network connection between a location, or office, and your business data center or colocation environment.
AWS Directory Service
The AWS Directory Service is an Amazon Web Services tool that allows enables an IT administrator to run Microsoft Active Directory (AD) in the public cloud, easing setup of the user and group data and giving end-user access to AWS cloud services.
Amazon WorkDocs
Amazon WorkDocs is a fully managed, secure content creation, storage, and collaboration service. With Amazon WorkDocs, you can easily create, edit, and share content, and because it's stored centrally on AWS, access it from anywhere on any device.
Amazon WorkMail
Amazon Simple Email Service-Amazon WorkMail uses Amazon SES to send all outgoing emails. The test mail domain and your domains are available for management in the Amazon SES console. There is no cost for an outgoing email sent from Amazon WorkMail.
Amazon WorkSpaces
Amazon WorkSpaces is a managed, secure Desktop-as-a-Service (DaaS) solution. You can use Amazon WorkSpaces to provision either Windows or Linux desktops in just a few minutes and quickly scale to provide thousands of desktops to workers across the globe.
AWS Service Catalog
AWS Service Catalog allows organizations to create and manage catalogs of IT services that are approved for use on AWS. These IT services can include everything from virtual machine images, servers, software, and databases to complete multi-tier application architectures.
AWS CodeGuru
Amazon CodeGuru is a machine learning-based development tool that provides intelligent recommendations for improving code quality and identifying the most expensive lines of code.

Amazon Services for Web development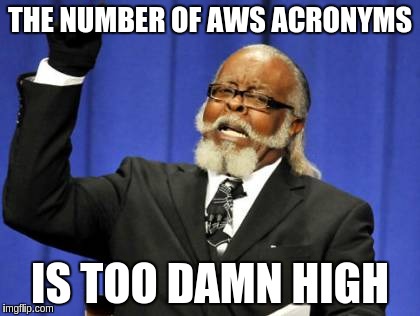 AWS RDS
Amazon Relational Database Service (Amazon RDS) makes it easy to set up, operate, and scale a relational database in the cloud. It provides cost-efficient and resizable capacity while automating time-consuming administration tasks such as hardware provisioning, database setup, patching, and backups.
AWS DynamoDB
Amazon DynamoDB is a key-value and document database that delivers single-digit millisecond performance at any scale. It's a fully managed, multi-region, Multimaster, durable database with built-in security, backup and restores, and in-memory caching for internet-scale applications. DynamoDB can handle more than 10 trillion requests per day and can support peaks of more than 20 million requests per second.
Amazon API Gateway
Amazon API Gateway is a fully managed service that makes it easy for developers to create, publish, maintain, monitor, and secure APIs at any scale. APIs act as the "front door" for applications to access data, business logic, or functionality from your backend services. Using API Gateway, you can create RESTful APIs and WebSocket APIs that enable real-time two-way communication applications.
AWS Route 53
Amazon Route 53 is a highly available and scalable cloud Domain Name System (DNS) web service. It is designed to give developers and businesses an extremely reliable and cost-effective way to route end users to Internet applications by translating names like www.example.com into the numeric IP addresses like 192.0.2.1 that computers use to connect to each other. Amazon Route 53 is fully compliant with IPv6 as well.
AWS CloudFront
Amazon CloudFront is a fast content delivery network (CDN) service that securely delivers data, videos, applications, and APIs to customers globally with low latency, high transfer speeds, all within a developer-friendly environment. CloudFront is integrated with AWS – both physical locations that are directly connected to the AWS global infrastructure, as well as other AWS services.
AWS Simple Email Service (SES)
Amazon Simple Email Service (SES) is a cost-effective, flexible, and scalable email service that enables developers to send mail from within any application. You can configure Amazon SES quickly to support several email use cases, including transactional, marketing, or mass email communications.
AWS Simple Queue Service (SQS)
Amazon Simple Queue Service (SQS) is a fully managed message queuing service that enables you to decouple and scale microservices, distributed systems, and serverless applications.
Amazon Services for Mobile development
Amazon Cognito
Amazon Cognito lets you add user sign-up, sign-in, and access control to your web and mobile apps quickly and easily. Amazon Cognito scales to millions of users and supports sign-in with social identity providers, such as Facebook, Google, and Amazon, and enterprise identity providers via SAML 2.0.
AWS Device Farm
AWS Device Farm is an application testing service that lets you improve the quality of your web and mobile apps by testing them across an extensive range of desktop browsers and real mobile devices; without having to provision and manage any testing infrastructure.
Amazon Pinpoint
Amazon Pinpoint is a flexible and scalable outbound and inbound marketing communications service. You can connect with customers over channels like email, SMS, push, or voice. Amazon Pinpoint is easy to set up, easy to use, and is flexible for all marketing communication scenarios.
Amazon Simple Notification Service (SNS)
AWS SNS is a publisher/subscriber messaging service in which one microservice can publish a message and other microservices can subscribe and receive messages. SNS works best for microservice architecture patterns and employs a concept of the topic where the pub/sub happens.
Amazon Services for DevOps and Infrastructure
AWS CodeCommit
AWS CodeCommit is a fully-managed source control service that hosts secure Git-based repositories. It makes it easy for teams to collaborate on code in a secure and highly scalable ecosystem. CodeCommit eliminates the need to operate your own source control system or worry about scaling its infrastructure.
AWS Code Deploy
AWS CodeDeploy is a fully managed deployment service that automates software deployments to a variety of computing services such as Amazon EC2, AWS Fargate, AWS Lambda, and your on-premises servers. … You can use AWS CodeDeploy to automate software deployments, eliminating the need for error-prone manual operations.
AWS CodePipeline
AWS CodePipeline is a fully managed continuous delivery service that helps you automate your release pipelines for fast and reliable application and infrastructure updates. … You can easily integrate AWS CodePipeline with third-party services such as GitHub or with your own custom plugin.
Amazon Elastic Container Service (ECS)
Amazon Elastic Container Registry (ECR) is a fully-managed Docker container registry that makes it easy for developers to store, manage, and deploy Docker container images. Amazon ECR is integrated with Amazon Elastic Container Service (ECS), simplifying your development to production workflow.
AWS Elastic Beanstalk is an easy-to-use service for deploying and scaling web applications and services developed with Java, .NET, PHP, Node.js, Python, Ruby, Go, and Docker on familiar servers such as Apache, Nginx, Passenger, and IIS.
AWS CloudFormation
AWS CloudFormation allows you to use programming languages or a simple text file to model and provision, in an automated and secure manner, all the resources needed for your applications across all regions and accounts. This gives you a single source of truth for your AWS and third-party resources.
AWS CloudTrail
You can use the CloudTrail console to turn on CloudTrail in additional accounts. Sign in to the AWS management console using account 222222222222 credentials and open the AWS CloudTrail console. In the navigation bar, select the region where you want to turn on CloudTrail.
AWS CloudWatch
Amazon CloudWatch is a monitoring and management service that provides data and actionable insights for AWS, hybrid, and on-premises applications and infrastructure resources. With CloudWatch, you can collect and access all your performance and operational data in form of logs and metrics from a single platform.
AWS OpsWork
AWS OpsWorks is a configuration management service that provides managed instances of Chef and Puppet. … OpsWorks lets you use Chef and Puppet to automate how servers are configured, deployed and managed across your Amazon EC2 instances or on-premises compute environments.
AWS Trusted Advisor
AWS Trusted Advisor is an application that draws upon best practices learned from AWS' aggregated operational history of serving hundreds of thousands of AWS customers. Trusted Advisor inspects your AWS environment and makes recommendations for saving money, improving system performance, or closing security gaps.
Amazon Services for Bigdata
AWS Data Pipeline
AWS Data Pipeline is a web service that you can use to automate the movement and transformation of data. … A pipeline schedules and runs tasks by creating Amazon EC2 instances to perform the defined work activities. You upload your pipeline definition to the pipeline and then activate the pipeline.
Amazon Elastic MapReduce (EMR)
Amazon Elastic MapReduce (Amazon EMR) is a web service that makes it easy to quickly and cost-effectively process vast amounts of data. Amazon EMR uses Hadoop, an open-source framework, to distribute your data and processing across a resizable cluster of Amazon EC2 instances.
Amazon Glacier
Amazon S3 Glacier is a secure, durable, and extremely low-cost cloud storage service for data archiving and long-term backup. Customers can reliably store large or small amounts of data for as little as $0.004 per gigabyte per month, significant savings compared to on-premises solutions.
Amazon Kinesis
Amazon Kinesis Data Streams is a scalable and durable real-time data streaming service that can continuously capture gigabytes of data per second from hundreds of thousands of sources.
Amazon RedShift
Amazon Redshift is a fully managed, petabyte-scale data warehouse service in the cloud. You can start with just a few hundred gigabytes of data and scale to a petabyte or more. This enables you to use your data to acquire new insights for your business and customers.
Amazon Kendra
Amazon Kendra is an intelligent search service powered by machine learning. Kendra reimagines enterprise search for your websites and applications so your employees and customers can easily find the content they are looking for, even when it's scattered across multiple locations and content repositories within your organization.

Amazon Machine Learning
Amazon Machine Learning (Amazon ML) is a robust, cloud-based service that makes it easy for developers of all skill levels to use machine learning technology. … This section introduces the key concepts and terms that will help you understand what you need to do to create powerful machine learning models with Amazon ML.